Discover an entirely new cooking experience! Thanks to our modular induction hobs and mobile trolleys you can take your kitchen outdoors in no time! Induction cooking plates are the latest trend. They offer lots of advantages because cooking on induction:
is very energy-efficient and ecological
is 30 to 60% faster than cooking on gas or halogen technology whileretaining an excellent performance.
is perfectly adjustable, flexible and precise
is safe because the cooking hob never gets very hot and the residualheat remains low.
cooking platesare easy to clean.
liquids never will burn onto the surface.
Contrary to BBQ, the nutrients never come in contact with flames or unhealthy gases.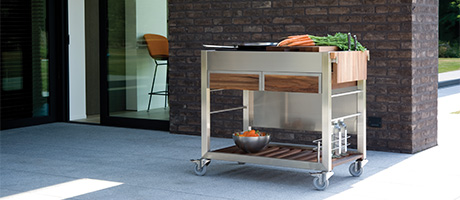 TROLLEYS
Whether you call it kitchen karts, outdoor kitchens on wheels, rolling outdoor kitchens or electric trolleys for outdoor cooking… One thing is certain: you can cook in style outside wherever you like!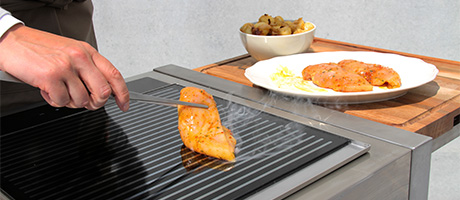 COOKING PLATES
Choose your favourite cooking plates and adapt your trolley at any time depending on what you need. Stir-fry today, grill tomorrow? No problem! The indu+ cooking plates are easy to change in a minute. Discover them here.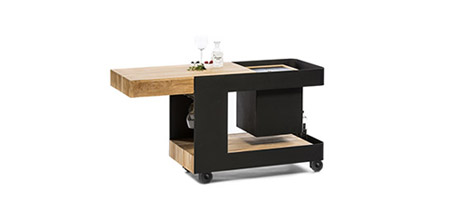 ICEBOY
NEW! ICEBOY is a mobile bar and side table in one. This stylish trolley will keep your drinks fresh this summer! A sober design that combines black powder coated aluminium with teak. Cool!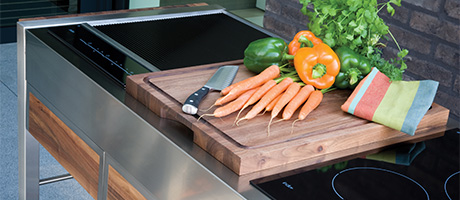 ACCESSORIES
Customize your trolley! With numerous accessories you can create your perfect outdoor kitchen: cutting boards, knife holders, an anti splash board or extra drawer. And these are only a few of the many accessories the range has to offer.